For transporting products on complex tracks using shaped sections, such as horizontal or vertical curves and bends.

We make plate apron conveyors for operations that require minimising of the installation space, and where increased resistance of the belt against mechanical damage is required while preserving the simplicity of the elements with minimal maintenance.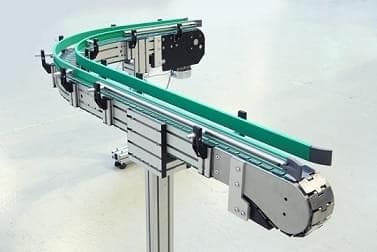 Properties
conveyor frame, including the base made of structural aluminium system ALUTEC KK
plastic slide guideway in the top and bottom branch to support the members and reduce friction
the driving and driven plastic gear wheels (optional steel), tensioning members
for directions: horizontal, vertical, oblique, steep and angled
design with horizontal or vertical radii
fixed and mobile (travel) designs
design of the conveyors maximally facilitates maintenance and cleaning of the installation
modular design allows for quick replacement of components, the conveyors can be arranged both one behind another or next to each other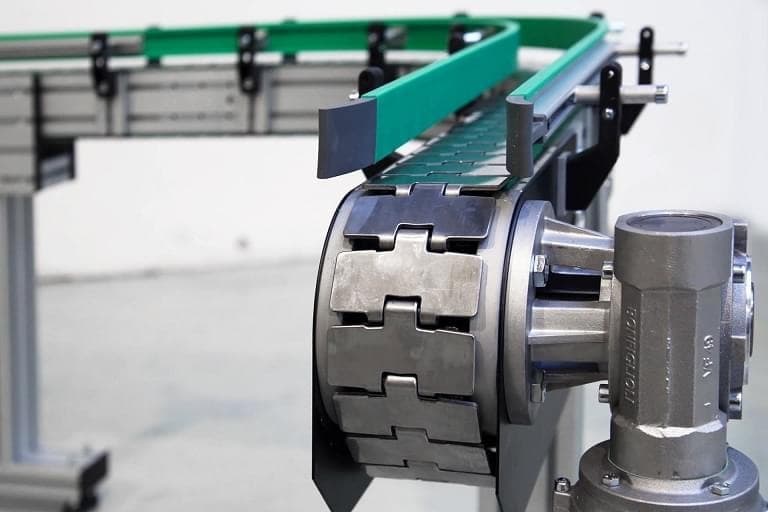 Drives
electric motors and a worm bevel-helical gears, sliding mounting on driving drum shaft
operation of conveyors can be supplemented by frequency converter, control unit and sensors for automatic control systems
Accessories
lateral ways with vertical and horizontal adjustment
electric adjustable columns for adjusting the height of the conveyor
transition pieces for arranging conveyors in lines
turn wheels
steel - plastic / steel - stainless steel
63 - 82,5 – 114,3 – 190,5 – 254 – 304,8
Catalogue of profiles
and accessories
On-line tools to simplify and efficiently work
with our structural aluminium system.
Expert
consultation
Our professional technical and sales representatives
will gladly answer all your questions.