For transporting products between operations in plants, where the focus is on increased resistance of the belt.

We make modular conveyors with an option of shaped tracking (horizontal, angled sections, turns) especially for food, pharmaceutical and industrial operations that require increased resistance of the belt to mechanical damage, non-standard surface temperatures, and where breathability of the belt is required.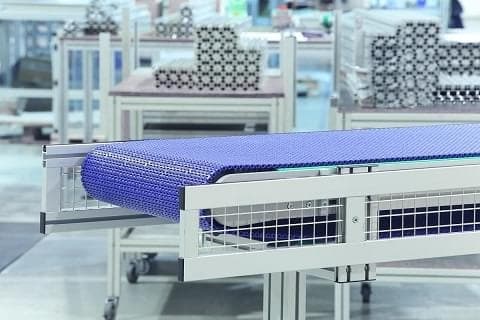 Properties I
curved or linear design upon request
the support frame and the base of the conveyor are made of structural aluminium system ALUTEC KK
in the standard design, the drive consists of worm gear with a three phase asynchronous motor, or a 230V motor
PP, PE, POM, PA modular belts (depending on the required properties and designs), with spacing of modules ranging between ½" and 2"
belt modules interconnected by a rigid plastic or steel rod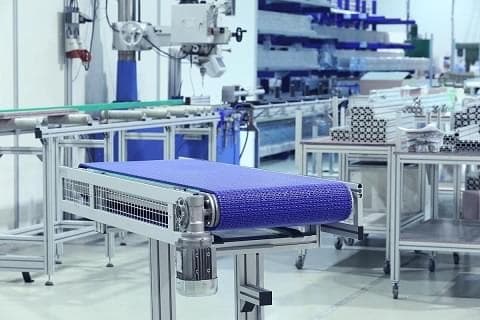 Properties II
driving and driven plastic gear wheels
plastic slide way under the top branch of the belt as support and reduction of friction
adjustment and tensing of belts by axial tensioners in driven wheels
in case the belt gets damaged, onlythe damaged portion is replaced
high belt durability
minimum maintenance requirements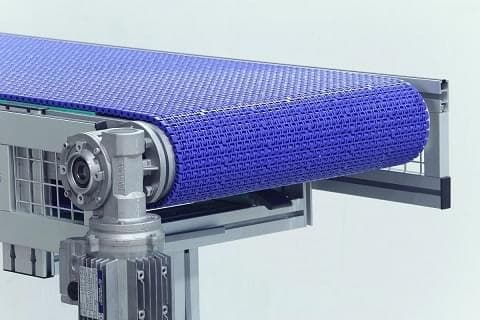 Accessories
electrical switchboards
optical sensors
frequency converters
motor starters
fixed lateral vertical / oblique way with raised edges for guiding the products
Catalogue of profiles
and accessories
On-line tools to simplify and efficiently work
with our structural aluminium system.
Expert
consultation
Our professional technical and sales representatives
will gladly answer all your questions.