Accumulating chain
conveyors
Power and performance for installation into larger transport units, production and assembly lines.

Chain conveyors are designed for transport of single items larger in size and heavier in weight. An important element of the chain conveyor is an accumulation chain, version 3/8 "and 3/4" with steel or plastic wear- and oil-resistant followers. Our chain conveyors are characterised by high durability and high performance, and enable transport of very wide or long materials.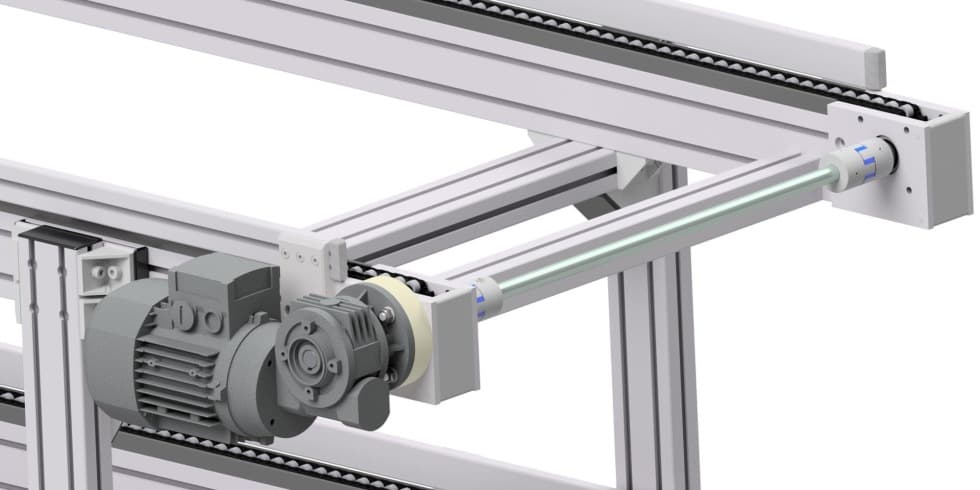 Design I
the support frame and the base of the conveyor are made of structural aluminium system ALUTEC KK
driving and driven steel gear wheel
aluminium holders of driving and driven gear wheel with tilting ball bearings and a simple system for adjusting and tensing of transport chain
drive consists of a compact unit consisting of a three-phase asynchronous electric motor and a worm transmission
bevel-helical transmission for larger loads
accumulation follower chains, version 3/8 " or 3/4" with steel or plastic wear- and oil-resistant follower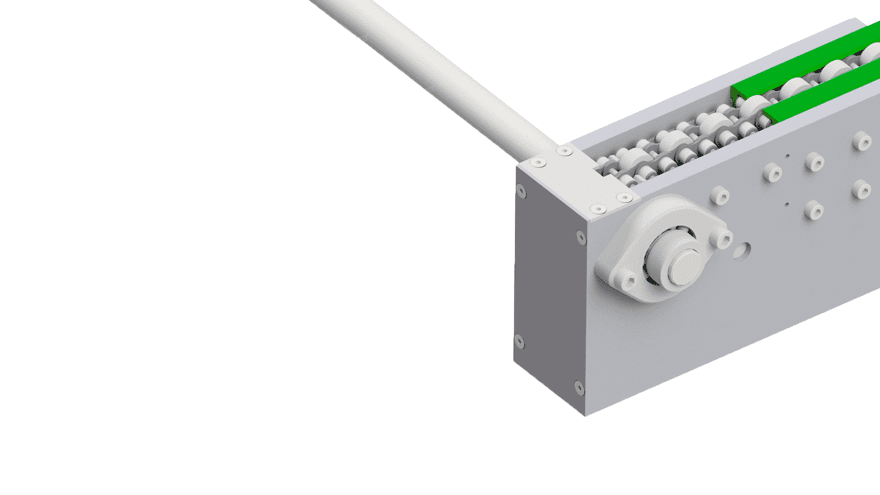 Design II
plastic slide way under the top and bottom branch of the chain to support the entire surface of it and reduce friction
return chain branch runs in a cavity of an aluminium profile
speed is constant, or optionally can be adjusted with the use of a frequency converter
possibility of vertically adjustable version manually or propelled, or an angled variant
we deliver including electrical wiring to the motor starter or a frequency converter speed changer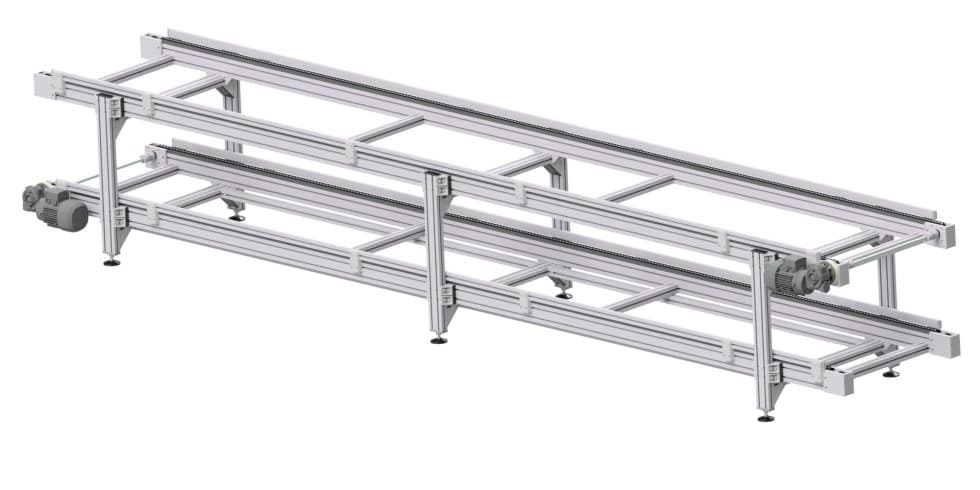 No base conveyor
for installation in your machine
Conveyor with base, ramp and lighting
for the operations taking place directly on the conveyor
Conveyor with an adjustable branch
to transport single items of different width
Conveyor with a special chain
we supply chain according to your requirements, e.g. with catch drivers
Properties
we make conveyors to your needs
high loading capacity
possibility of conveying very large or long materials
quick delivery and installation of conveyors
you can carry out specific technology or manufacturing operations directly on the conveyor
selectable number of branches depending on the nature of the material being conveyed
possibility of replacing individual chain links instead of replacing the whole chain
me make conveyor structure of ALUTEC KK profiles that are easy to connect to other profiles or complementary technologies
the chains are designed for storage operations
Optional accessories
wiring of the conveyors
optical sensors with reflectors, STOP emergency buttons
frequency converter, motor starter
base, drive to your specifications
plastic slide way with raised edges
lateral guideway adjustable only in horizontal or horizontal and vertical direction
Chain conveyor kit No. 930001 3/8"
350 mm incl. heads (head length 130 mm)
Chain conveyor kit No. 930002 3/4"
636 mm incl. heads (head length 273 mm)
Catalogue of profiles
and accessories
On-line tools to simplify and efficiently work
with our structural aluminium system.
Expert
consultation
Our professional technical and sales representatives
will gladly answer all your questions.