The ideal solution for the implementation of manufacturing and assembly lines containing either automatically or manually performed operations.

The pallet conveyor system is designed for interoperable transport of single items with a requirement of serial repeatability. The modularity of the transport system allows the assembly and adjustment of a broad range of variants of individual production requirements. The components used are robust, long lasting and enable reuse. The base of the transport system consists of a supporting frame made of aluminium profiles, a transport medium and little palettes. The selection of a suitable type of transport system is determined by the final product depending on the design of the palette and the maximum load.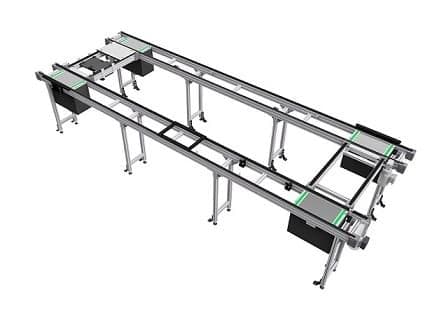 Function description
The conveyor system route transports the palette from one assembly station to another. Part to be assembled is carried on the palette (carrier) on two parallel moving belts by means of friction. In the individual process steps, the palette with a part to be assembled is stopped with high precision (automatically by indexing stations or pneumatically by a stopper), while the transport system continues to move (the belts slip below the palette). The pallets do not have a position bound between them (they move independently), which enables creating of intermediate stock between the stations. Once the technological step is completed, the palette releases and continues in the track to the next technological step. At the end of the assembly process, the product is removed from the palette and the palette goes back to the beginning of the track.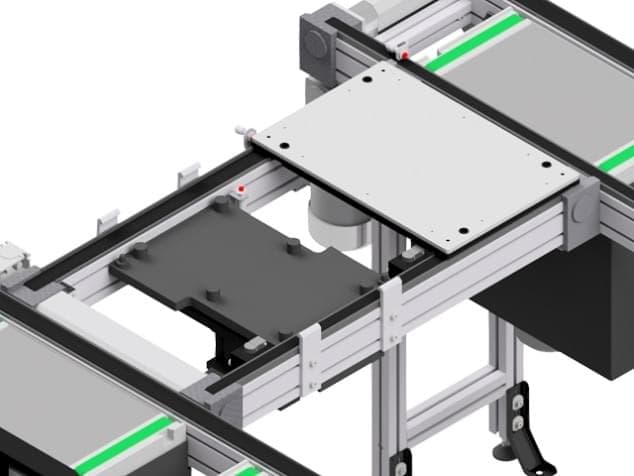 Advantages of the system
before each technological operation a queue of several palettes can be lined up, which forms a buffer stock to cover the unevenness of the process cycle
the operator is not forced to adhere to a fixed machine cycle
easy to change the shape of the assembly line, or include a new work cell in the existing line
using existing parts of the conveyor system during changeover to a new production
through exchanging the carrier, there is a possibility to assemble products of similar type on a single line, or branch the technology flow
each pallet may store data on individual technological operations in its own memory
based on that information, defective pieces can be rejected returned after the rework
each conveyor system station can be gradually expanded by dedicated installations which will result in fully automatic production
Basic elements
of the Pallet transport system
Catalogue of profiles
and accessories
On-line tools to simplify and efficiently work
with our structural aluminium system.
Expert
consultation
Our professional technical and sales representatives
will gladly answer all your questions.